Lass Your Aff Off! Stand-up Comedy
Image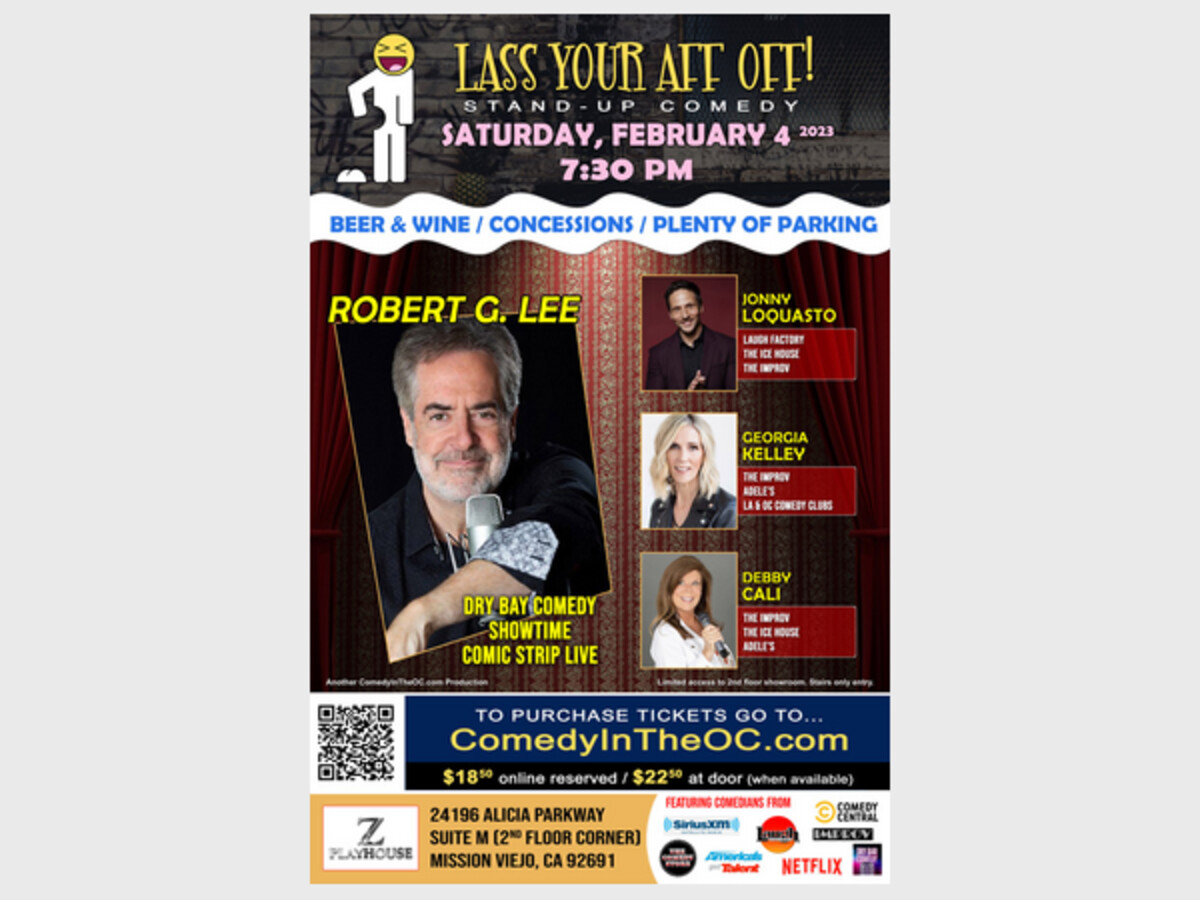 It's February and it's time for some laughs that you're sure to love! Bring someone you love to the Z Playhouse on Saturday, February 4th and join us for a night of laughter.
Making his Z Playhouse debut is funny man Robert G. Lee. Robert is already known in the entertainment industry as Hollywood's top warm-up comic. This veteran of 1,000 episodes of such shows as The New Adventures of Old Christine, Just Shoot Me, Becker and The Drew Carey Show is considered to be the reigning king in this very specialized profession. His job is to keep countless audiences entertained between scenes and costume and set changes with rapid-fire ad-libs and humorous interviews.
No stranger in front of the camera either, Robert has written, produced and starred in six stand-up comedy specials and has been seen on the Bananas Comedy series, on Showtime's The Joke's On Thee, VH1's Stand Up Spotlight, Comic Strip Live and a variety of roles on such sitcoms as Wings and Perfect Strangers.
There will be more laughs to love in February as our show will also include our good friend Jonny Loquasto. Jonny's debut comedy special "Jonny Loquasto: Physical. Therapy." is now streaming on Roku, Tubi, and multiple other platforms. He also just recorded a special with Dry Bar Comedy that will be released very soon! Jonny has also achieved a lifelong dream of finding success with the microphone in professional wrestling as a play by play commentator, ring announcer, live event host, and interviewer. This sports entertainment dream has even taken him to working for the largest sports entertainment company in the world. His work with World Wrestling Entertainment (WWE) has included live, worldwide broadcasts, touring the country, and even standing in the center of the ring holding the microphone while 13,000 fans cheered on their favorite superstars inside of the iconic Staples Center!
Rounding out the evening of laughter is Georgia Kelley. Georgia has been performing all over in Orange County, Los Angeles & Santa Barbara comedy clubs. She is a single mom of 4 teenage daughters, so comedy is at her fingertips! When Georgia began performing comedy her family said, "I think we've all been waiting for this, we just didn't know it!"
Hosting this cavalcade of comedy is OC favorite Debby Cali. Debby is a regular at all of our ComedyInTheOC shows as well as clubs throughout LA & OC. Her observations on everyday life events will have you laughing nonstop.
Join us on Saturday, February 4th for an evening of laughter you'll be talking about long after it's over!!
The Z Playhouse
24196 Alicia Parkway
Mission Viejo, CA 92691
United States