Image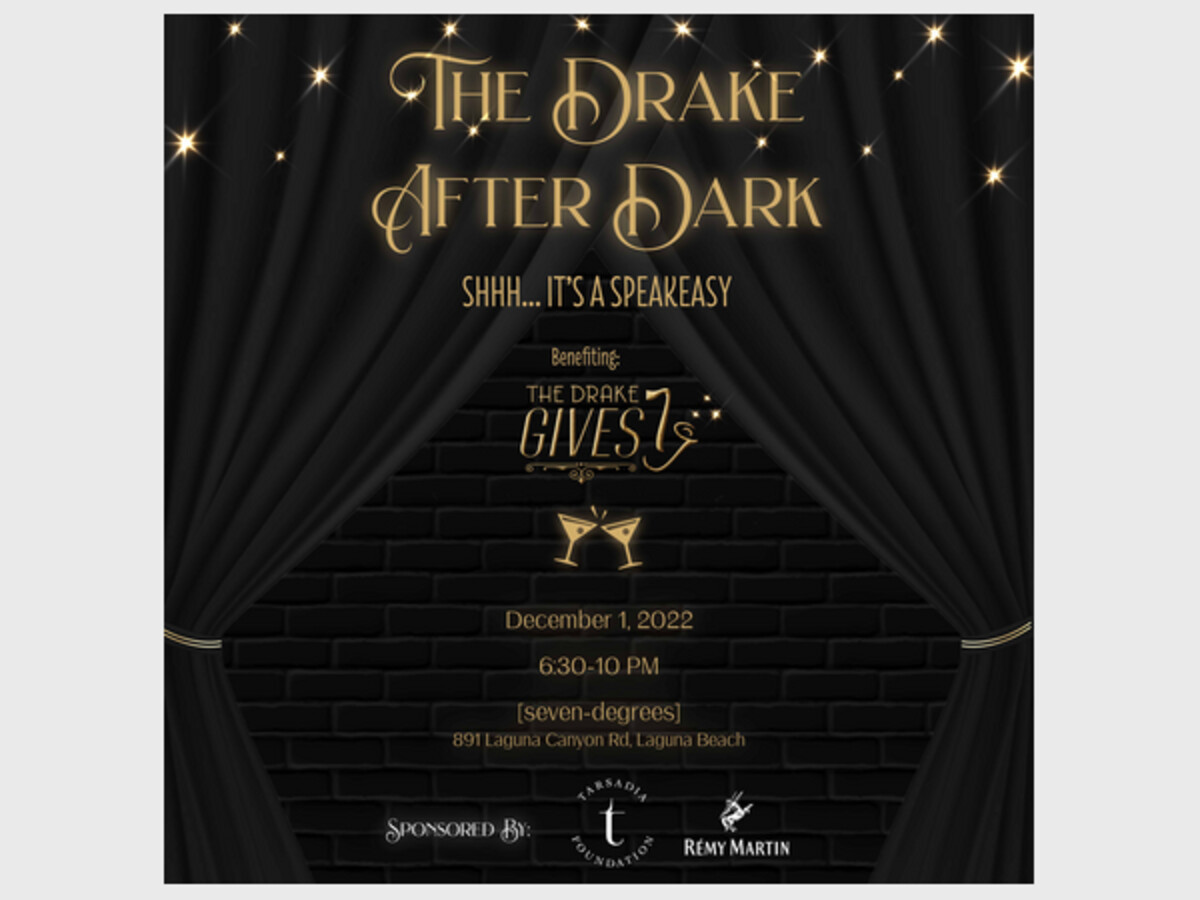 This post expresses the views and opinions of the author(s) and not necessarily that of OC-On The Town management or staff.
The Drake Restaurant Announces Night on the Town for a Cause
Introducing "The Drake After Dark" Speakeasy
The Drake After Dark, where an experiential evening will fund an exceptional need, aims to raise $200,000 for Save The Music Foundation through The Drake Gives on December 1st
Designed as a speakeasy, The Drake After Dark will be an evening for a cause, December 1st, 2022 from 6:30 – late, at Laguna Beach's famed Seven Degrees venue. Where great food meets great music, The Drake After Dark will be an immersive experience complete with interactive food stations, exceptional wines and craft cocktails, first class live entertainment including a band and special guests, and fundraising opportunities featuring a silent auction and live auction led by none other than auctioneer Zack Krone. Chef Donald Lockhart of Seven Degrees will be leading the evening's culinary offering which will not disappoint.
The celebratory affair will honor Doug Freeman, CEO and Executive Chair of Orange County Music and Dance. Devoted to serving nonprofits, Doug has held a Board Chair role for the Pacific Symphony and UCI, and is a Founding Board Chair of The Literacy Project. He currently serves as the Chair and President of the Larry and Helen Hoag Foundation. Additionally, Doug is the Founder of National Philanthropy Day and has been listed by the Orange County Business Journal as one of the 500 Most Influential People in Orange County.
The black and gold themed soiree will provide guests with an opportunity to relax and enjoy an inspiring evening out, while allowing them an opportunity to get involved by giving the gift of music to underserved youth in our local public schools. This year's generous event sponsors include The Tarsadia Foundation and Remy Martin. Due to limited capacity this event is anticipated to sell-out for its second year in a row. Limited Tickets and Sponsorship Opportunities for The Drake After Dark are available HERE.
Seven Degrees
891 Laguna Canyon Road
Laguna Beach, CA 92651
United States