Lass Your Aff Off! Stand-up Comedy | Z Playhouse | October 14
Image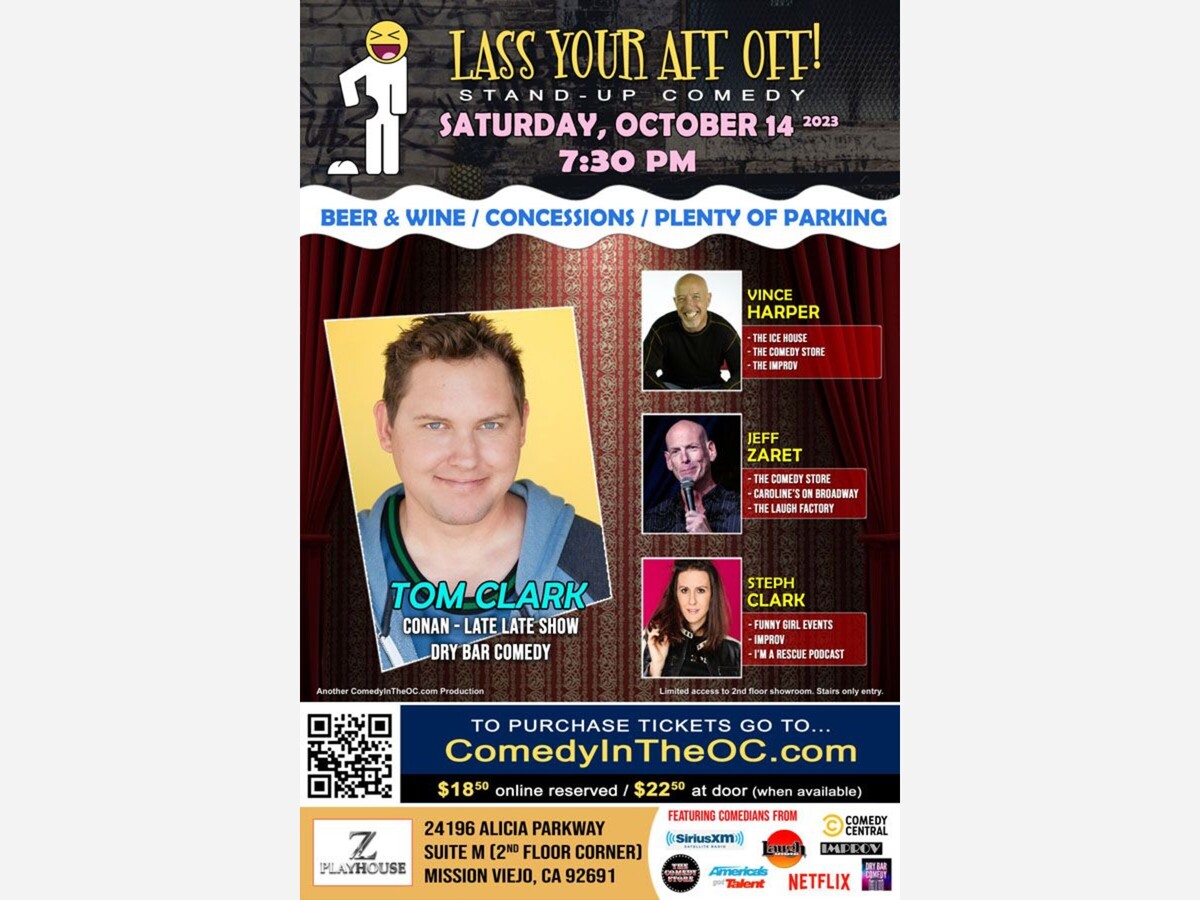 On Saturday, October 14th we will officially welcome in Fall but things will still be heating up at The Z in Mission Viejo with one of the hottest shows in town! Our headliner will be the hilarious Tom Clark!
Tom Clark was born and raised, in that order. He has appeared on Conan, Netflix, Comedy Central, HBO, NBC, ABC, FOX, and CBS. He starred in two comedy specials in the same year, "Outraged" on Amazon Prime & "I'm a Rescue" on Dry Bar Comedy. Tom is also an actor and has appeared on such shows as HBO's Euphoria and Room 104, NBC's Outsourced, TNT's The Closer, and the Hallmark made for TV movie The Wish List. After landing the role on Outsourced, director Ken Kwapis invited Clark to be in the Drew Barrymore movie, Big Miracle. You can also see Clark in Columbia Pictures horror comedy Freaks of Nature.
Also appearing at The Z for this comedy extravaganza is Vince Harper. Vince has come to the realization that things aren't working out exactly as he'd planned… Someone stole his identity and actually raised his FICO score! He shares intimate thoughts that other Baby Boomers would never admit to as he examines his shortcomings and the reality of riding high on the trail of aging. Vince is the winner of Orange County's Funniest Comedian Competition and has performed with such comedy greats as Jay Leno, Gary Shandling and George Lopez.
Joining Tom and Vince is the hilarious Jeff Zaret. Jeff has been performing stand-up comedy for over 30 years and has lent his vocal talent to a wide range of voice-over work— from animation to business to everything in between. Jeff performs regularly at clubs throughout LA and the OC as well as clubs throughout the U.S.
Our night of comedy on October 14th will be hosted by the very talented Steph Clark. Clark is described as "a rising star in the LA comedy scene," by the Pasadena Weekly. Her sarcastic absurdity leaves a lasting impression. She was featured in the Bellflower Comedy Fest, Pubs and Paws Brew Fest, and was in the semifinals for the Ventura Comedy Festival 2 years in a row.
We look forward to seeing you at The Z for another great night of Lass Your Aff Off! comedy!
More News from Mission Viejo